To celebrate Black Music Appreciation Month, I decided to throw a imaginary Musical Tea! Every good Tea has a theme. This one is loosely based on the Nikki Giovanni poem of the same name, "The Women Gather". The guests of honor; a sampling of some of the Black Women in music who edify, entertain and encourage my soul every time I hear them do what they do. 
As I listened to the playback of this episode last week, I felt it would also be nice to upload it on my late Grandmother's Birthday as she loved attending Teas, and was a Woman who LOVED music!  Whether it be the Blues, Classical, R&B or Gospel, there was nothing like the look of contentment on her face when she heard a lyric or melody that just jumped out at her. You know that line in a song that you have to sing along to like it was written just for you? Yeah, that!  She listened to all of the layers in the music, and enjoyed all of it! One of my proudest moments was giving her my first record, and watching her listen to it and  then begin to sing along!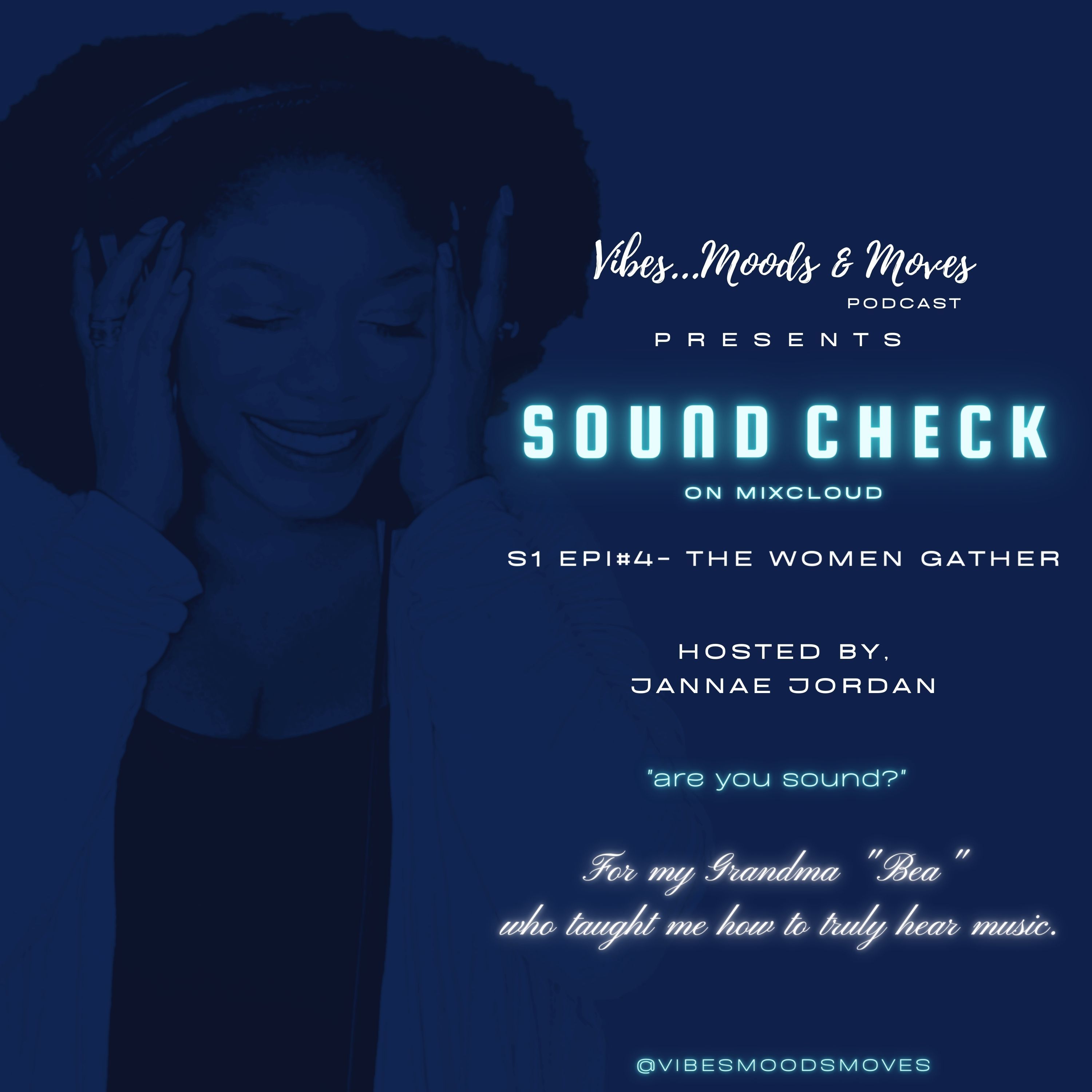 My Grandmother taught me how to be still and truly hear all that is in the music. She also taught me how to allow the music, and art in me to come forth.  In fact, she knew that I would sing before I did!  She told me straight out of nowhere in a quiet moment, just she and I, that I was a Songbird and I would sing. I knew I liked to sing for fun at the time, but  I must have looked back at her like a cow staring at the side of a freshly painted red barn. I didn't get it at all! She could see that I didn't. So she just laughed and gave me this look like "You'll see..." And she was right, I did see and I did sing.   So understand, that the day I lifted my voice to sing "It Is Well With My Soul" and "Goin' Up Yonder" at her Homegoing Service, that memory was all I could cling to to sing above my grief and honor her with all the love and beauty she deserved.  I don't know where the sound came from that morning in that A.M.E sanctuary, but it came out of me in a way that I have never heard, or felt.  I tell that story to folks who I feel need to understand "Why" I sing. It's never been about hype or any superficial anything , it is a calling.  I always say; in my youngin days I wasn't thinking about singing for the public. As a child I danced, acted, wrote stories, poems and short plays while singing my heart out for the pure joy of it, and the joy of anyone who cared to listen and feel happy with me while I did it. I was not looking to do this music thing, yet here I am! LOL   And that tiny lady called it nearly forty years ago. I lean in that when I feel like I can't ... 
I firmly believe that my Grandmother was dialed in to a whole other frequency than most. And that day she brought me into the call.  It would only be a few years later that I found myself singing on a pro and competitive level. And she was there every step of the way.  Always standing back un-phased but proud. When others would rush in with compliments she would just smile with this twinkle in her eye as to say "I knew she had this in her. The rest of you all are late!" LOL   I also believe that I inherited my ear and voice from her by way of my Mother , who has perfect pitch and one of the prettiest singing voices in creation in my opinion. As for my Grandmother, in her day she was a fierce Soprano in the Church Choir.  She always played down that vocal talent. But on rare occasions I heard her gently release a few notes here and there and my God, just beautiful! 
Let me tell you...I miss that woman every day!   But more often than not when that sadness creeps in, I feel her energy close, reminding me that what we are at our core...spirit, energy...that is forever. Every year for her Birthday my Mother and I do something that she enjoyed, make her favorite food and we reminisce. She loved day trips to the Casino, great seafood, good music, a nice cocktail and LAUGHTER!  She also loved gatherings, hosting and attending. One of her must attends were the Teas and other programs at the Church. I attended more than a few Church Teas with her over the years. So this Episode theme feels like a fun and different way to celebrate and honor her in addition to the usual festivities this year.  It's been six years since she transitioned.  In my family we don't bury our dead then just move on.  We honor their lives; we speak their names and consider ourselves blessed to have them as Ancestors who exist beyond the veil who look out for us. Ring the bell, speak their names.  So this episode is something of a ringing of the bell for me. She would have enjoyed this! 
At the same time, as a Black Woman in music, I felt like highlighting not only our creative diversity, but I set out to curate an abridged cross section of sonic history.  With the state of Popular music today it is easy to forget that we have considerably more depth creatively than the "Secure the bag" tropes that have taken center stage in Black Music at this moment in time. We have been writing, composing and singing about a far less glamorous empowerment that is rooted in profound faith ,integrity, and dignity from the beginning.  Yet one would think we have lost our root if they had to surmise who we are, or what we truly have contributed to the broader scope of music,  based on what is "Hot" in the mainstream music of today.  We have seeded genres as well as expanded them over time at writ large. We are so much more than is shown and heard these days. We all know that every generation has its trends. And that's a great thing. However, while bopping our collective heads to the latest tracks and hooks, we must remember we are more.  We can not afford to lose that connection to the root of this majestic tree called Black Music. It bares much fruit, and again,  has seeded and nourished many genres. However if we do not attend to it, care for it and respect it... it will rot or be destroyed by greed. Harsh? Perhaps. But it's something to think about.
On this episode I selected songs that speak about courage and mission in creativity as well as homage to the roots of our music ... hope,love and faith.  Funk, Rock, Soul, Jazz , Gospel, Acapella, Classical, Opera and House may not appear to be connected, but after you listen, I truly hope you see just how they are.  All of those sounds, as well as Hip Hop, R&B, Latin, Pop, Chillout etc.  are ever present in my home and have been forever.  Hell, as kid I loved me some Country Music too!  And black influence is in all of them.  Essentially what is evident ,if you pay attention, is that Black people from all walks of life , various cultures and languages have been infusing music at large with that special something all along!  It matters not the tempo, verbiage, language or geographical point of origin.  If our hands and hearts have been in it, you can feel it!  So it's no thang to feel something deep down when you listen to Betty Davis work you out from that place that is beyond funky and in your face like "Yeah I said it!', to the feeling of calm deep reflection and spiritual ease and sociopolitical commentary with Sweet Honey In The Rock. It's all connected. And it is beyond being contained or overly defined. It is what it is.
As a side note: For me, one of the most beautiful examples of transcending historical racial limitations in the Arts, music specifically; Opera!   From Marian Anderson to Leontyne Price, Jessye Norman and Kathleen Battle;  as a child who lived for "Great Performances" on PBS, they were larger than life!  Watching the Divas in full regalia sing "Carmen" and "Aida", to name a few  of my favorite aired performances, I also learned that if we can find our way in a sound that is not traditionally ours, it's on us to show up and bring US to it and proudly let it be known " Oh YES we can do this too!"   The kids need to see that today just as much as I know I needed to see it all those years ago.  So including Kathleen Battle towards the end of this episode singing one of my personal favorite Spirituals  " Steal Away";  serves as a testimony to our contributions across the board. The fusion of Jazz, Classical, Opera and a traditional Spiritual existing in harmony...sums it all up for me. It speaks to the existence of the fire to show up fully from the soul in all that we do. And moreover, that it comes from a source bigger than us, even in the darker moments in life. ( Also see Ms.Battle in the clips below re: her feature on Janet Jackson's "This Time" HELLO! Again, that fusion of genres! I LOVE IT! )
I close with this...to my fellow Black folks in general, whether in music or not, never forget that there is no genre out of our reach creatively as Artists or sonically as listeners. There is no box!   To everyone else who appreciates the soul we bring,Thank you!  When all is said and done, this hour of music and light commentary is just my way of reminding the listener of the facts and diversity that is Black Music.  So put that imagination into the "ON" position and come join me for "The Women Gather".  I sincerely hope you enjoy! And if it sparks some creative flow and introspection, even better!  With that said, Happy Black Music Appreciation Month! 
This one is for Bea! <3
Peace & Much Respect, 
Jannae
Here are few supplemental links to accompany this Blog and Podcast Episode:
Official Proclamation of Black Music Appreciation month ( Kinda cool to read!)
Inspiration for this episode's title n flow:
"The Women Gather"  By Nikki Giovanni
Info on Betty Davis:
Betty - They Say I'm Different | Exclusive footage and Q&A
"F.U.N.K."  Betty Davis ( Another fiya tune meets story telling! GREAT Listen!)
Sweet Honey In The Rock ( Official Website)
Brief Background on "Steal Away" on Wikipedia
Kathleen Battle honorable mentions:
Janet Jackson discussing working with Ms. Battle
"This Time" Janet Jackson Feat. Kathleen Battle ( YES... I love a good genre crossover!)
Paul Simon honorable mention as I noted the "Graceland" Album  and this song on this episode:
( I HAD to include this as I blanked on Ladysmith Black Mambazo, in the episode. I do know better! I love this sound...)
Homeless · Paul Simon · Ladysmith Black Mambazo