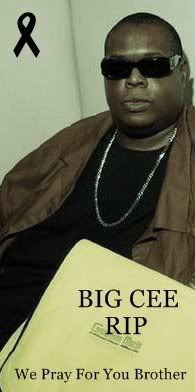 Carl "Big Cee" Proctor
1964 - 2011
 On March 4th, my world was completely shaken by the sudden and unexpected departure of my dear friend, business...music collaborator and Soul Brother #1,
Carl "Big

Cee

" Proctor.
  When the call came informing me that he had transitioned from this life into the eternal, I knew things would forever be changed.  I miss him every day and cannot begin to explain the profound loss I and all who loved him are feeling. He was more than an amazing DJ and innovative CEO of a music label.
Cee
was a husband, brother, best friend, jokester, truth speaker, protector, mentor, door opener, way maker, champion for the under dog, and a true lover of music and the truly creative souls who create it.  Because of him, many have been able to shine their light on the world! His presence is ever felt and his love, like our love for him...boundless.   The 
Consortium

Muzik
family and legacy lives on!  SO grateful to have had his life touch mine...so grateful for him
In closing I will say this, because he was the kind of man he was, he had the ability to bring people together.  He created a global family of people who are now closer and forever connected in our love and respect for Carl and our love for the music.  He left us all with much to do! All I can say is what he would want to hear most from us as we move on doing what we love to do..."I'm on my grind!"  We won't stop...