I could easily find the words to express my joy and appreciation for this man coming through and sharing his story and good vibe on VIBES...MOODS & MOVES- EPI#7.   However, I don't have to!  Here's more about, DJ (and MORE) Victor Rosado, in the words of a friend of his, LadyRock, below.
You can also hear what sets him apart from the rest during his weekly Live On-Line shows on Mixcloud and Biweekly sets on www.Cyberjamz.com.
And if you haven''t already, please do  Subscribe to Vibes...Moods & Moves to find out more. 
🎧 I-Tunes : https://apple.co/3fTKHos 
🎧 Spotify : https://spoti.fi/2ENFTTL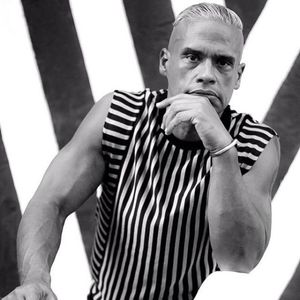 Pictured: Victor Rosado | Photo credit: Ritchie Hererra
Victor Rosado has been setting dance floors on fire with his unique style of emotionally controlling a crowd with his soulful musical narratives,which transmits a spiritually uplifting groove that propelled him to the forefront of the New York City club scene in the early 80's.  
But, it's his creative prowess, unyielding dedication to honing his craft and ceaseless commitment to realizing his full potential that has enabled him to adapt to the constant transformations within the music industry during the past four decades, 
Victor's perpetual passion for music and extraordinary interpretation of rhythm and harmony  are the primary forces behind his longevity within the global dance music community and is what makes him a force to be reckoned with.  
Victor is an epicure; a person who truly loves food at the highest levels. His ardent delight with food began as a child cooking in the kitchen with his mother preparing  Puerto Rican delicacies for holiday guests. His innate aesthetic curiosity and insatiable  desire to attain knowledge led him to the world renowned Art Institute Of NYC, where he studied culinary cuisine and the necessary skills to deliver popular traditional international flavors and world class techniques that food connoisseurs want and expect from award winning professional kitchens.  
Victor is versed in every aspect of the culinary arts including meal planning, food preparation, organizing and overseeing dining set up, presentation and service. Victor's culinary training as a saucier, baking, pastry and executive chef has enabled him to surprise, delight and even inspire passionate foodies. 
Come check out this forefather of dance music and innovative culinary artist on Vibes...Moods & Moves, and find out what he currently has on his plate.
Bio written by : LadyRock
To Follow our guest: 
Guest - Victor Rosado 
Follow Victor on his Instagram and Facebook pages for all of his current show info, such as invites to his sessions on Cyberjamz and Mixcloud.   
Instagram -@DJVictorRosado
Facebook - https://www.facebook.com/victorrosado8225 
* BONUS * he's known to  be very generous with downloads of his most recent mixes too! So you're going to want to Follow and Like on those platforms! 
Follow Vibes..Moods & Moves on Instagram...Let's connect! : @vibesmoodsmoves
Creator | Exec Producer | Producer | Host - Jannae Jordan 
Instagram - @ jannaejordan 
Website - www.jannaejordan.com
Co-Producer | Guest Coordinator | Promotions  - Kat Ayala 
Instagram - @i_am_kat_ayala